Everyone at the picnic. Paul learned to pose for a camera in another 3 weeks.
Don't know who's that stick was but he sure liked it.
This was cute, Dan at the picnic throwing around this little plane.
We couldn't figure out whether Molly was walking Dan or Dan was walking Molly.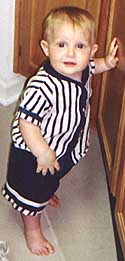 He learned to stand on his own shortly after this picture.
I just love that smile!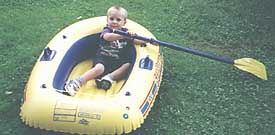 "But Dad, there was water here just a minute ago!"
Piggin' out on grilled food.