An old picture from July! Before our camping trip, the boys were practicing roasting marshmellows.
Dan with his Cousin Ariana on a penny-pony at a market while we were getting supplies on the camping trip.
Paul with his cool sunglasses.
John with a curious sucker fish on his head.
Jonathan... learning to crawl.
Dan after an afternoon of painting.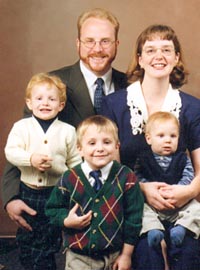 Our family portrait December, 2001